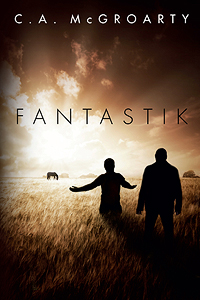 Destiny…Charlie Boone's will be found on a cross country trip with a complete stranger, but why?
Jake Mott, an ex-con convicted of murder, and Charlie Boone, a city bus driver, are complete strangers; however, when their worlds collide, both of their lives are forever changed.
Born the son of a schizophrenic woman, Charlie lives in his boyhood home with his wife and two kids, caring for his sick mother. Tormented by unsettling dreams and frightening visions since childhood, the thought that he shares the same affliction as her is beginning to look like a reality.
Having spent the last three decades in prison, Jake is planning a trip to California to reclaim a bag of money he buried thirty years ago, and he's making the trip alone…or so he thinks.
Together they embark on an epic journey of hope and redemption, but only one will live to tell about it.


A little background on Fantastik:
Fantastik was originally a screenplay that I wrote while living in Chicago, Illinois. At some point shortly after writing the screenplay it dawned on me that what I had was the foundation of a good novel and so I began filling in the gaps. The seeds of the novel were born out of a cast of characters my father introduced me to as a child. My father was a trial attorney who spent the better part of three decades in a Camden city courtroom. Jake Mott's character represents everything good and bad of the men my father had helped over the years. These men, who often seemed to be a weak moment away from transgression, knew me and my brother and sisters by name, they ate at our dinner table and sometimes they would come knocking on our door well past midnight in need of help or money. My father was never one to turn anyone away. Growing up in a safe, upper middle class environment, far from the streets of Camden, the lives of these men was another side of life that left an indelible mark on me.
As for Charlie Boone, I believe there's a little bit of him in many of us. He epitomizes the plight of any hard working individual whose daily struggles, both financial and mental, overshadow all that is still good in his life; his marriage and his children, as he continues to make sense of the cards life has dealt him.
My father died on August 2, 2012, and it was shortly thereafter that I finally committed myself to publishing Fantastik.